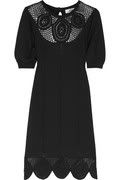 Even though I am going to Lucky shops sale this Friday, I could not bare the thought of missing another Tibi sample sale (I went to a gallery opening instead of the spring/summer sale... bad idea bc i was super jealous of my friend's amazingg finds). I am actually wearing the black crochet dress i bought (pic above) with a pair of super mod sigerson morrison mauve/ barney purple tall boots.
Also had to have this red silk blouse
Everything at the sale was 60-75% off retail and from the pre-fall & fall 2008 collection. Saks has some of the same pieces on sale now, but alot are still full price. Weird. Mostly everything from
Tibi's pre-fall & fall 2008 look book
was at the sale.
Tibi is one of my favorite designers, I love every pattern Amy Smilovic designs/uses. That is why I was surprised when I looked at Tibi's look book. Its kind of ridiculous. Tibi can definitely afford a model that knows how to do more than put her hands on her hips. Or is this look they were going for and i just don't get it? let me know what you think.
Anyway, be sure to check out the sale before its over on friday
days & time: Thursday 9:30 a.m.-7 p.m., Friday 9:30 a.m.-5:30 p.m.
location: Penthouse 15, 336 W. 37th St., btwn Eighth & Ninth Aves., 15th fl (212-966-3773)